The adaptive programs are provided for individuals ages 8 through adulthood and occur during their respective seasons. Sports offered include aquatics, bocce ball, bowling, basketball, golf, floor hockey, cheerleading, soccer, swimming, tennis, and track & field. The collaboration also provides several special interest classes including Zumba, theater, and cooking as well as outdoor programs like Camp Carley and California Adventure. Another fun opportunity with Team Mesa is the TGIF Social Club which is designed for individuals ages 16 and older who can function independently while in a group setting with supervision of staff. Typically, the social club opportunities are offered twice per month on Friday evenings during the fall and Winter/Spring seasons. Activities may vary from karaoke and game night to a Diamondbacks Game.

The collaboration serves as the Mesa delegation of Special Olympics Arizona (SOAZ), the state chapter charged with providing year-round sports training and competitions for the entire state. The training schedule for each program is based on the competition schedules as determined by SOAZ. Athletes have the choice whether or not to compete in the SOAZ competitions. If the athlete will compete in SOAZ competitions, a Medical & Consent Form must be completed by a physical and submitted to the City of Mesa office. The document is valid for three years from the date of the doctor's and participant's (or guardian's) signatures. Athletes without an up-to-date Medical & Consent Form will not be allowed to participate in SOAZ competitions.

Additional information:
Follow the Team Mesa athletes on Facebook
https://www.facebook.com/TeamMesaBulldogs/
Benefits of our programs:
Increased quality of life

Increased self-confidence

Improved health and wellness

Fewer medical problems

Greater stamina in everyday activities

Increased social skills

Participate in a group of people with similar ability levels

Gain leadership and team building skills

Develop a peer and parent support system
Team Mesa Sportsline
Receive one email per month with upcoming programs, events, and unique opportunities with the Team Mesa Adaptive programs. Visit http://mesaaz.gov/residents/enotifications. Enter your preferred email address. Select "Adaptive Social Programs" and/or "Adaptive Sports Programs" from the listserv options. You will receive an email from the listserv to click a link and confirm your subscription. Once confirmed, you will receive an email notification on the first of every month.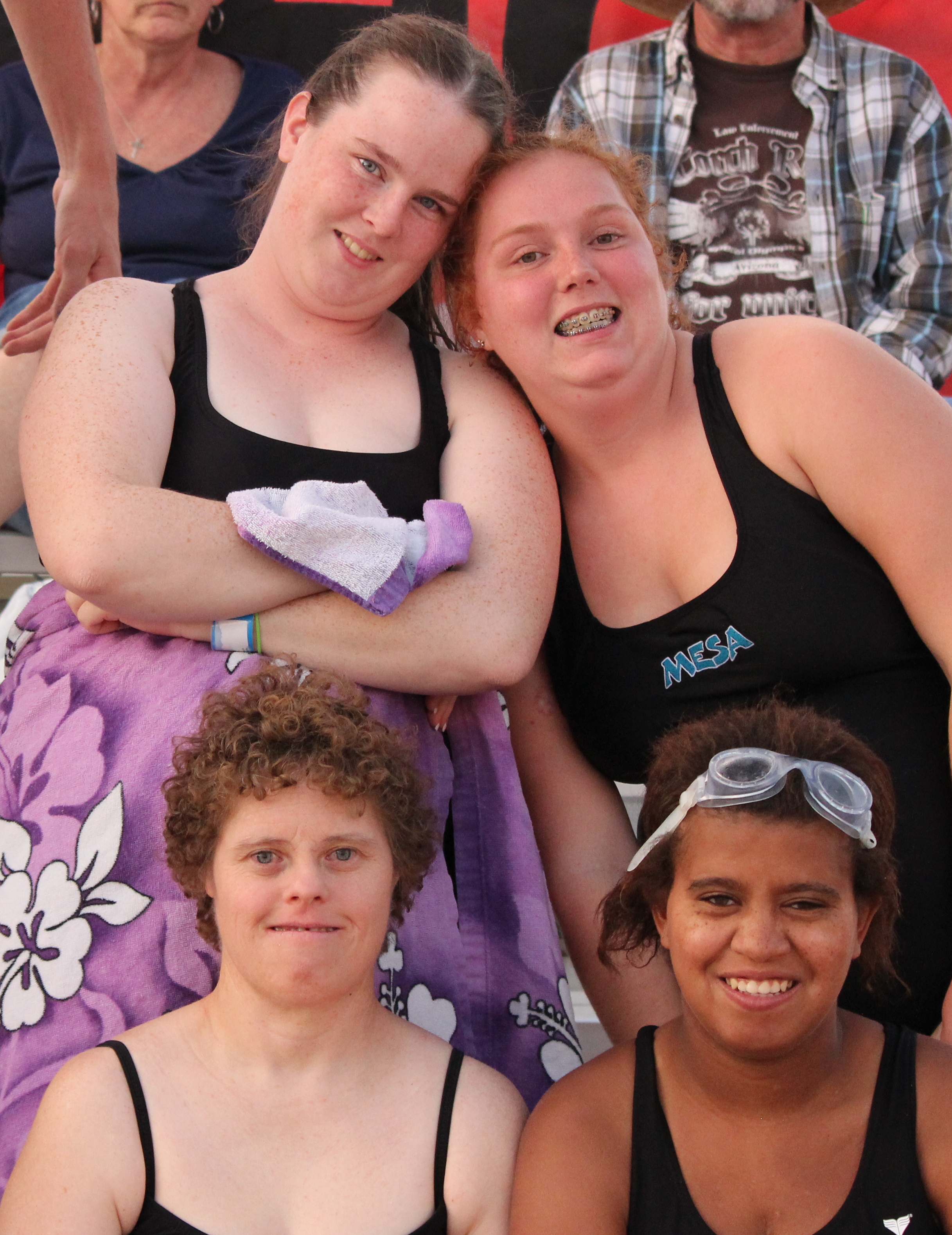 "I love being a part of Team Mesa! We have fun and the coaches are amazing!"
Contacts
Jacquie Gallo
Recreation Programmer
Jacquie.Gallo@mesaaz.gov
480.644.4948 office
Josh Underwood
Recreation Programmer
Joshua.Underwood@mesaaz.gov
480.644.5777 office
Lane Gram
Recreation Supervisor
Lane.Gram@mesaaz.gov
480.644.2863 office
Register for Team Mesa

To register, find more information, and/or find the yearly schedule for sports, special interest classes, and the TGIF Social Club activities, please click below.
Special Notice
Due to the unique partnership between the organizations, the registration forms and payment are monitored and collected by the City of Mesa Parks and Recreation.